I know what you're thinking. What? Another "Cats I Know" interview already? Another awesome giveaway already? Well folks, it's your lucky day. (Actually it's 100% MY lucky day, as last night I thought I had lost my blog forever because I'm an egg who likes to break things without backing them up, but this morning all hope was restored to the universe).
I tell most people that I first met card-maker extraordinaire Jo Bean Power of "Things by Bean" fame at uni. We were both studying journalism and together we created a pretty marvellous radio show called 'Blue Skies'. It was a one-off deal, but I like to think we were total pros. The truth is however, that I first met Bean in the band room of the Corner Hotel in Richmond. We bonded over a bottle of wine and then promptly passed out. Classy.
Needless to say, Bean is a fabulous, funny and truly wonderful card maker and human being.  In fact you probably got to this very blog page from searching for her, not me. Her greeting cards are the type that you wish you had been clever enough to come up with – cheeky one liners that say it all. Here are some of my faves:
I asked the talented Bean to take my official worksheet challenge, and her answers do not disappoint…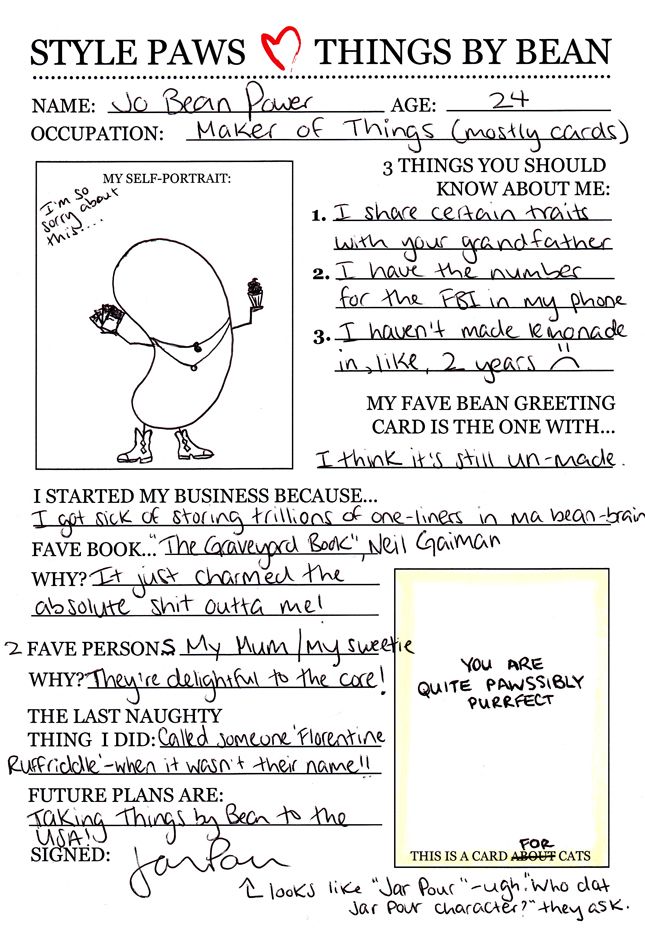 Bean has also been kind enough to offer a lucky Style Paws reader their very own set of five 'Things by Bean' greeting cards mailed straight to their doorstep!
How to enter:
To enter, simply leave a comment on this blog post telling me who you'd like to give a card to and why!
Be sure to include a contact e-mail address.
Entries close on Friday 12th October, 5pm. Good luck!
Find out more about "Things by Bean" and become a Facebook fan here.